Thermal Fogger SM600 is an oil based portable thermal fogger model, with a pulse jet engine. SM600 model is recommended for small fields up to 3 hectares.
SM600 Portable Thermal Fogger machine can be used for four different purposes:
Agriculture (Agricultural frost prevention, Pest, Fungus, and bacteria control)

Public Health for combatting against contagious diseases (i.e Malaria, Chikungunya, dengue fever, COVID-19 etc)

Environmental Pest Control

Fertilizer Application
Utilization Areas of portable SM600 thermal fogger – thermal fogging machine
1. In Agriculture:
Agricultural Frost prevention:

Thermal fogger machine sprays oil in vapor form, and provides anti-freeze protection in cold seasons. An artificial cloud curtain that acts as a blanket and provides protection for at least 3 hours over the field during radiation frost when there is no wind. It provides protection against radiation frost damage in cold weather up to -7 degrees Celsius during the spring months both in open fields and greenhouses.

Pest, Fungus and Bacteria Control in Agriculture:

In hot weather during the summer months, the thermal fogger machine is used as a pest and fungus control machine in agriculture. Thermal fogging machine is necessary to combat harmful organisms such as "Red Spider Mite, Tuta, White Fly, Thrips, Mealybug, Codling Moth, Powdery Mildew, Botrytis" which become active in hot weather. The population of these harmful organisms can only be completely eliminated with a thermal fogging machine.
2. In Public Health: 
When filled with the disinfectant liquid, it is used as a

disinfection fogger

for fighting against contagious diseases i.e. zika virus, COVID, COVID-19, chikungunya, malaria, dengue fever, yellow fever. SM600 thermal fogging machine is commonly used in the

public health

area at state institutions, municipalities, Ministry of Health. It controls the spread of diseases and viruses.
3. Environmental Pest Control :
Portable, hand held thermal fogging machine,

thanks to its

insecticide fogger

property, is used for environmental pest control for the comfort of citizens, residents.  It is used in the fight with vectors i.e. mosquito, houseflies (Musca Domestica), locust.
4. Fertilizer application:
Liquid, inorganic fertilizers and nano fertilizers can be successfully applied with thermal fogging machine in agriculture. Fertilizer sprayed in the form of smoke can easily reach every square millimeter and pores under the leaf.
(Note: Portable thermal fogger model SM600 is a gasoline-powered Thermal fogging machine. SM600 works with oil based formulation and a gasoline-powered pulse jet engine. If you need a water-based system, this needs to be notified to our company during the purchase. All our products are manufactured in Turkey, by the manufacturer White Fog.)
Agricultural

FROST CONTROL

with Thermal Fogger Machine
◊ SM600 sprays and creates a white artificial cloud above the land, this is the vaporized form of the oil liquid. The artificial cloud increases resistance to cold weather by creating the anti freeze effect. The organic oil molecule mixes into the water molecules of the plant that tend to crystallize and freeze. For instance, in cold weather, the skin on our hands crack, and and to prevent cracking, a moisturizer cream is applied made from glycerin oil. Another relevant example is vehicle radiators. The raw material for the anti-freeze liquids added to radiators is glycerin oil, this increases resistance to cold.
◊ Thermal fogging machine SM600, thanks to the artificial cloud technology, provides 100% protection against radiation frost damage (occurs only in clear and windless weather conditions) up to -7 degrees. Since there is no wind during radiation frost, the sprayed artificial cloud remains suspended in the air above the area for at least 3 hours. It preserves the current temperature of the soil and ensures the reflection of radiation energy back to the Earth's surface.
◊ The specific mass of the cold air layer is heavier than the atmosphere, and the cold air layer, where ice crystals are present, tends to descend onto the products. The specific mass of the artificial cloud curtain sprayed with the SM600 thermal fogging machine is lighter than the atmosphere and tends to rise towards the sky. The artificial cloud curtain moves the cold air layer away from the products and prevents it from settling on them. Due to the inversion, the sprayed smoke cannot fly higher by overcoming the cold air layer. The cold air layer acts as a roof, and the artificial cloud curtain, which acts as a blanket, completely covers the area.
◊ It provides protection against agricultural frost up to -7 degrees Celsius in greenhouse applications next to outdoor application. Since the greenhouse is completely enclosed, the sprayed smoke can remain suspended in the air for up to 6 hours in a dense manner.
Elements to Consider in Frost Fighting with Thermal Fogger
◊ SR fogging oil or Vegetable glycerin oil can be used for open field garden or closed area greenhouse applications. There is no need for an anti-freeze liquid.
◊ Since there is no wind during agricultural frost, the user should walk through the open field with the device and effectively disperse the smoke. The artificial cloud stays suspended over the field for at least 3 hours until the wind arrives, it protects flowers and seeds from radiation frost damage. When the wind blows, the smoke drifts and dissipates. However, as known, if there is wind, the cold air layer and the warm air layer mix with each other, eliminating the risk of radiation frost in windy weather.
◊ Depending on the size of your field, you need either small and portable thermal fogging machine  (SM600 model), or if you have a larger field vehicle mounted (SM700 model which is 10 times more performative than SM600), and for extra large fields you need Ultra fogger model. All of these 3 thermal fogger models, as all our machine ranges, are manufactured in Turkey, with +30 years of experience, and by us. 


PEST CONTOL

with portable Thermal fogger machine
◊  Thermal fogging machine provides 90% (ninety percent) saving in annual insecticide, fertilizer, anti freeze product consumption and cost. One of the most important properties of the portable thermal fogger machine is that the insecticide liquid does not fall on the ground or soil, and get wasted. Hence, 3 hectares of land can be sprayed with 200mL (one cup) of insecticide.
◊  The SM600 thermal fogger can spray 1000 m2 of land in 1 minute. Spraying 5000 m2 of land takes only 5 minutes. Whereas spraying 5000 m2 of land with a garden sprayer takes about 5 hours. Thermal fogger provides 60 times more saving in time compared to other types of sprayers.
The relative efficiency of SM600 thermal fogger compared to other spraying machines comes from its small micron size.  SM600 sprays insecticide in the form of smoke with particles of 10 microns size. Garden sprayers, on the other hand, spray insecticide with particles of 100 microns in size. This means the probability of contact with pests is higher with SM600 machine.  SM600 is at least 13 times more contact effective than garden sprayers. It is important to underline an insect will not die unless it comes into direct contact with the particle containing insecticide! Hence, it is crucial that the sprayed particle contacts with the target insect or the virus.
SM600: 10 µm, 5-liter mixture, 2,390,000,000,000 particles.
Garden sprayer: 100 µm, 5-liter mixture, 190,000,000,000 particles.
◊  It is not technically possible to combat flying insects with machines that spray insecticides with large particle sizes, such as turbo atomizers or garden sprayers. For effective combat with flying-winged insects, or difficult-to-combat pests, the micron size of sprayed insecticide particle must be less than 30 microns in diameter, and the drift distance of the insecticide must be long. These criteria were determined by the United Nations Food and Agriculture Organization (FAO) and the World Health Organization (WHO) and have been presented to the public in booklets. The insecticide droplet sprayed by SM600, covered with a thin oil layer, does not evaporate quickly in the atmosphere, and stays suspended in the air for a longer time . Sprayed particles develops resistance against sunlight. Since the particles remain suspended in the air for a longer time without evaporation, the probability of insecticide coming in contact with the target is higher. As a result, insects are eliminated more efficiently with less effort and insecticide usage.
Briefly, these distinctive properties of the SM600 portable thermal fogging machine, spraying the particules in vapor form, make it the most efficient spraying machine in fertilizer, anti-frost, public health, and environmental pest control applications. Since an efficient spraying can be done with Thermal fogger, there is no need to use systemic insecticide application. Systemic insecticide application aims to leave residue on the plant to prevent the pest from eating the plant or product and render it ineffective through the digestive system. Besides such systematic treatments leave residue on the plant and soil, causes high insecticide consumption and high insecticide cost. Thermal fogger saves time, budget, and maintains the quality of the crop.
◊  Since a more effective spraying activity is carried out with less insecticide (or fertilizer, or natural anti freeze product) thanks to SM600, the quality and yield of the crop is maintained.
◊ With SM600, it is possible to perform effective pesticide spraying into a greenhouse of 3000 m2 without entering, from the doorway. This protects the health of the person conducting the spraying activity from the toxic effects caused by the pesticide.
Elements to Consider in Pesticide Spraying with Thermal Fogger
◊ The intended pesticide mixture should be prepared in a transparent container. After shaking and letting it rest for 15 minutes, if a homogeneous mixture is obtained, it should be poured into the device for immediate use.
◊ Use of Emulsifiable concentrate (EC) pesticides: These pesticides can mix directly into the oil liquid, without adding water.
Example:
SR fogging oil + EC pesticide
Explanation:
5 liters of SR fogging oil + 200ml of EC pesticide.
(Note: SR fogging oil can be supplied from our company)
◊ Use of Suspension concentrate (SC), or powder pesticides: SC and powder pesticides are produced to be diluted with water. Therefore, a certain amount of water should be added to the oil to be used. However, not all oils can be mixed with water. For example, olive oil does not mix with water. Oils that can be mixed with water should be preferred for SC and powder pesticide application.
Examples:
1. LP fogging oil that can be mixed with water + Water + SC pesticide
2. LP fogging oil that can be mixed with water + Water + Powder pesticide
3. Vegetable glycerin oil + Water + SC pesticide
4. Vegetable glycerin oil + Water + Powder pesticide
Explanation:
4 liters of LP fogging oil that can be mixed with water + 1 liter of water + 200ml of SC pesticide.
4 liters of LP fogging oil that can be mixed with water + 1 liter of water + 200g of powder pesticide.
(Note: LP fogging oil that can be mixed with water can be supplied by our company)
General Information about SM600 Thermal Fogger
◊ The average usage life of the SM600 device is 10 years.
◊ It has a 10-year spare parts availability, and 2-year warranty.
◊ Licensed by the Ministry of Agriculture and Forestry of the Republic of Turkey.
◊ The SM600 device, including its gasoline engine and all parts, is domestically manufactured in Turkey.
◊ It operates with a gasoline jet engine.
◊ It sprays in the form of oil vapor with diameters ranging from 0 to 15 microns.
(Note: By default, SM600 sprays particles of 0-15 microns, with an average size of 10 micron. Yet, by changing the nozzle diameter, it is possible to spray particles of 0-50 micron size.)
◊ A 6-liter fog liquid is depleted after 20 minutes, and a 1-liter gasoline liquid is depleted after 40 minutes.
◊ High impact capacity, capable of fogging 1 acre of land in 1 minute.
◊ It has the capacity to fog 3 hectares of area within 20-30 minutes. It is possible to perform 8 hours o non-stop fogging with the refill of oil and gasoline.
◊ Minimum effective range of the sprayed fog is 200 meters.
◊ It has a filled weight of 14 kg and can be carried by hand, and shoulder using a harness strap.
Expert Recommendations
◊ « SR organic misting oil » or « vegetable glycerin » should be used inside the greenhouse. SR organic misting oil is dense, white colored, odorless, does not leave an oil layer on plants or products, and does not leave any chemical residue. Its ingredients are FDA certified. Diesel fuel, summer oil, and paraffinic oils should not be used as smoke liquid inside the greenhouse. Low-quality oils negatively affect product quality by leaving the plant oxygen-deprived, causing staining and yellowing of the leaves. Low-quality oils such as diesel, summer oil, and paraffinic oils leave chemical residues on crops due to the lack of airflow inside the greenhouse, causing products to be rejected under agricultural product quality test.
◊ The sprayed fog inside the greenhouse can remain suspended in the air for at least 6 hours. In agricultural frost applications inside the greenhouse, it is recommended to perform fogging at 3-hour intervals and maintain high fog density. Whereas, in pest control activity, it is sufficient to ventilate the greenhouse and release the fog 2 hours after the pesticide application.
◊ In out door frost fighting, the fog sprayed in a windless weather can remain suspended in the air for at least 3 hours. It is recommended to perform fogging at 2-3 hour intervals. Keeping a dense fog is important against frost fighting with thermal fogger.
◊ In pest control activity, it is recommended to use 1 unit of SM600 device for 3 hectares of land area, and move the device in this parcel. Within this logic, if you have 10 hectares of land, it is necessary to have 4 units of SM600 thermal fogger devices, or 1 unit of SM700 device. The time/speed of the fogging activity is not important in pesticide application. Even if the user finishes the pesticide application 3 hours later, the timing factor is not a significant element. However, in frost fighting, the speed factor is crucial. It is necessary to create a dense artificial cloud and quickly cover the whole area within 30 minutes. As time passes, the risk of the crystallized cold air layer settling on the garden and the risk of seed burning increases.
◊ In Frost Fighting activity, it is necessary to monitor the thermometer temperature, for deciding the start of fogging activity. When the temperature drops to +2 degree, it is necessary to observe the speed of the « wind ». Cold air below zero only creates a suitable and favorable environment for frost formation. The main reason for the occurrence of radiation frost is the cessation of wind in a cloudless weather, combined with the heat loss. To observe the wind speed, you can use an anemometer (wind speed measurement) device, a flag, or a simple pinwheel. Smoke, artificial cloud formation activities should be started at a time when the wind speed slows down.
◊ Average cost of frost fighting per 1000 m2 for 1-night:
Minimum (1 application): 0.19 EUR/ac
Average (2 repetitions): 0.39 EUR/ac
Maximum (3 repetitions): 0.58 EUR/ac
(Note: the prices may vary depending on the country, current exchange rate, and the average prices of oil)
Operation principles of the portable thermal fogging machine
Portable thermal fogger transforms the formulation substance with the help of heat from the liquid into vapor form. The system realizes this process rapidly (combustion chamber 1000C°, heat conjunction point of the formulation liquid 400C°).  This procedure makes it possible the obtain the smallest micron diameter.  The diameter of the sprayed particles of SM600 ranges between 0-15 µm, with the average micron size 10 µm. The small micron size specification allows the particles to get drifted long distances, and reach to  every point.
Notifications About the Thermal Fogger
1. What is the micron diameter?
Micron diameter means the size of 1 particle. It is expressed with "µm" and 1 mm is equal to 1000 microns. A human hair is 100µm thick, a particle's size of the thermal fogging machine can vary between 1µm~50µm. The micron diameter is adjustable. Considering the application area and the bug type to fight, the micron diameter adjustment is very important. For instance, mosquito treatment needs a micron diameter of 0-15µm, housefly (Musca Domestica) treatment 15-30µm. We would like to remind one more time that the Thermal fogger machine supplies the smallest micron diameter.
2. Thermal Fogging vs. Cold Fogging
Thermal fogger machine make oil-based fogging. Thermal fogger are more efficient compared to cold foggers. The oil surrounded sprayed particles do not evaporate, do not get impacted from the sunlight, and have a broader area of influence.
Portable thermal fogger machine used for the first emergency intervention at places where intensive contagious diseases occur and at places under excessive insect attack. Cold foggers are used to maintain the routine, after the first treatment done by a thermal fogger machine. Since cold fogger machines are water-based, cost-wise cold foggers are more economic.
Briefly summarized, the utilization aims of oil-based thermal fogging machines and water-based cold fogging machines are different. The customer needs to know their need in advance.
3. What is the difference between the operation principle of the thermal fogger and cold fogger?
Thermal fogger machines and cold fogger machines have a similar micron diameter range. Cold fogger transforms the formulation into vapor with the air pressure, without the heat. A portable thermal fogger, on the other hand, transforms the formulation into a vapor state with the help of heat. For Cold foggers, next to air pressure, airflow and power are also important details, as well as the quality of the air pump of the cold fogging machine. If the air pump is insufficient and is not disintegrating the disinfectant into small particles as required, it is not possible to name that device as a cold fogger. Cold Fogger has to produce particles with a diameter under 30 µm.
4. Thermal fogger micron dimensions and correspondence
0-15 micron size = Thermal fogger (with nozzle adjustment, it can also go up to 50 micron size)
0-30 micron size = Cold Fogger
30-50 micron size = ULV Fogger
50-100 micron size = Mist Sprayer
100-200 micron size = Garden Sprayer
5. Is the spray efficiency of the portable thermal fogger machine reduced due to the high temperature?
The portable thermal fogger machine does not reduce the spray efficiency due to the high temperature. Instead, it makes it more efficient. As a sector leading company, we state this with our 30 years of manufacturer expertise. If you convert a liquid substance into a vapor state, and subsequently convert it back to liquid state through re-condensation, you will not obtain the same rate. There will be a loss of 1%. In other words, the 5 litre spray liquid will be 4,95 Lt. However, since you spray the liquid, by a powerful pulse jet motor in form of vapor, in very small particles, your spray and spraying activity will get more efficient.
6. WHO (World Health Organisation) Recommendations
All the information listed here in compliance with WHO (World Health Organisation) criteria.  As a company, we have summarized these criteria and tried to transmit them to the public in a simple understandable speech. If you need more technical information you may obtain more details from the book "A practitioner's Guide" of the WHO (World Health Organisation).
If the capacity of the SM600 portable thermal fogging machine is not suitable for your activity, you may investigate our bigger model Vehicle-mounted thermal fogger SM700, which we are also the manufacturer. The SM700 model provides 10 times higher performance than the SM600 model.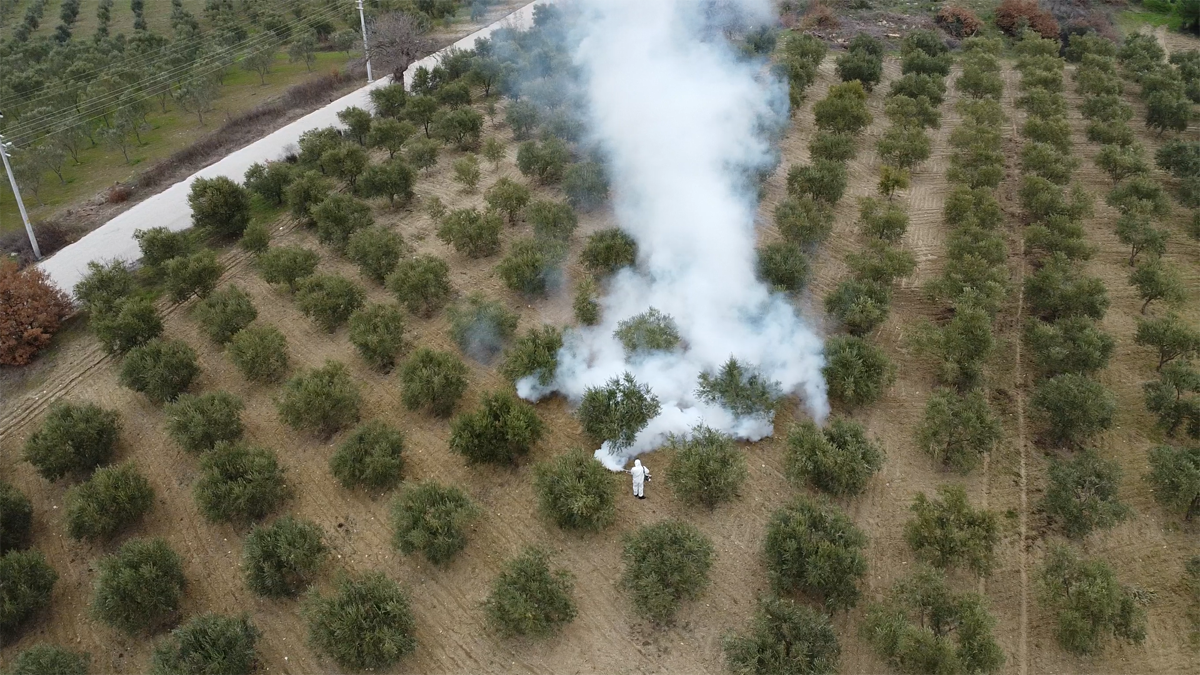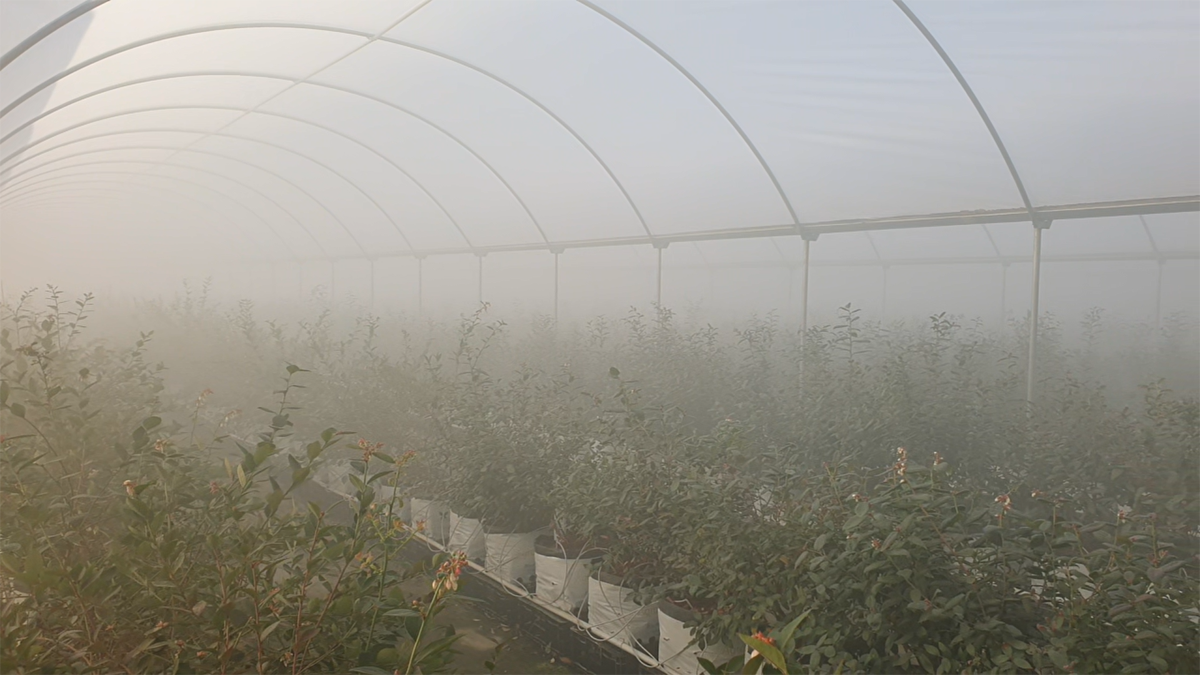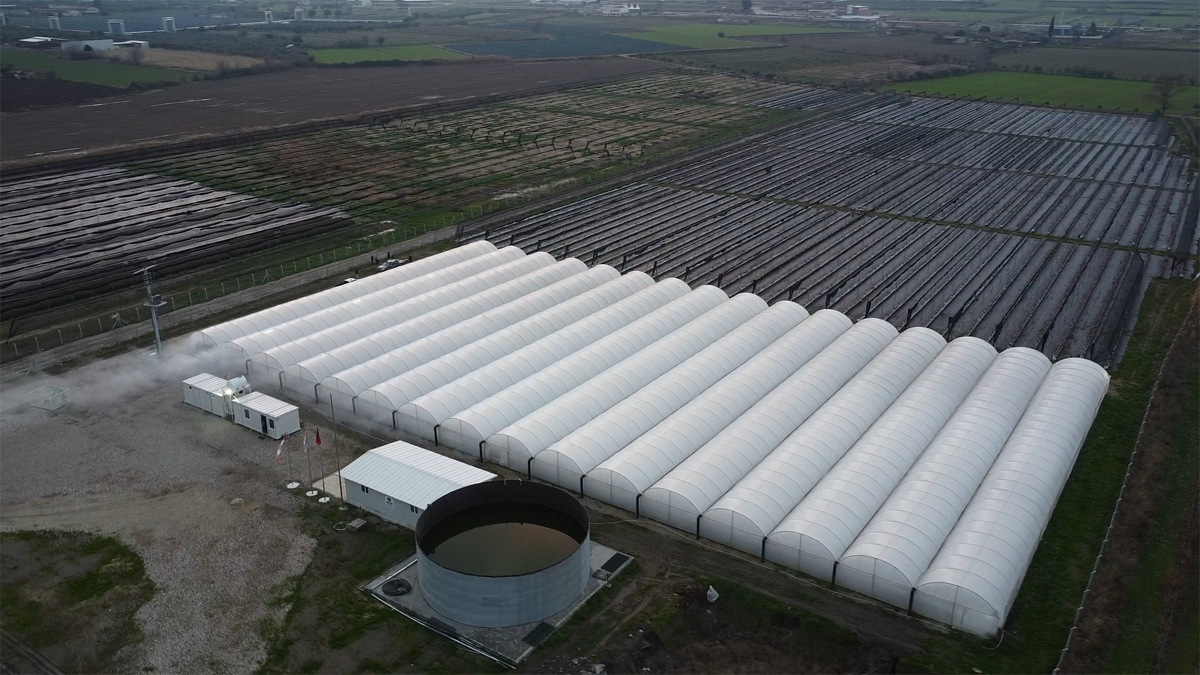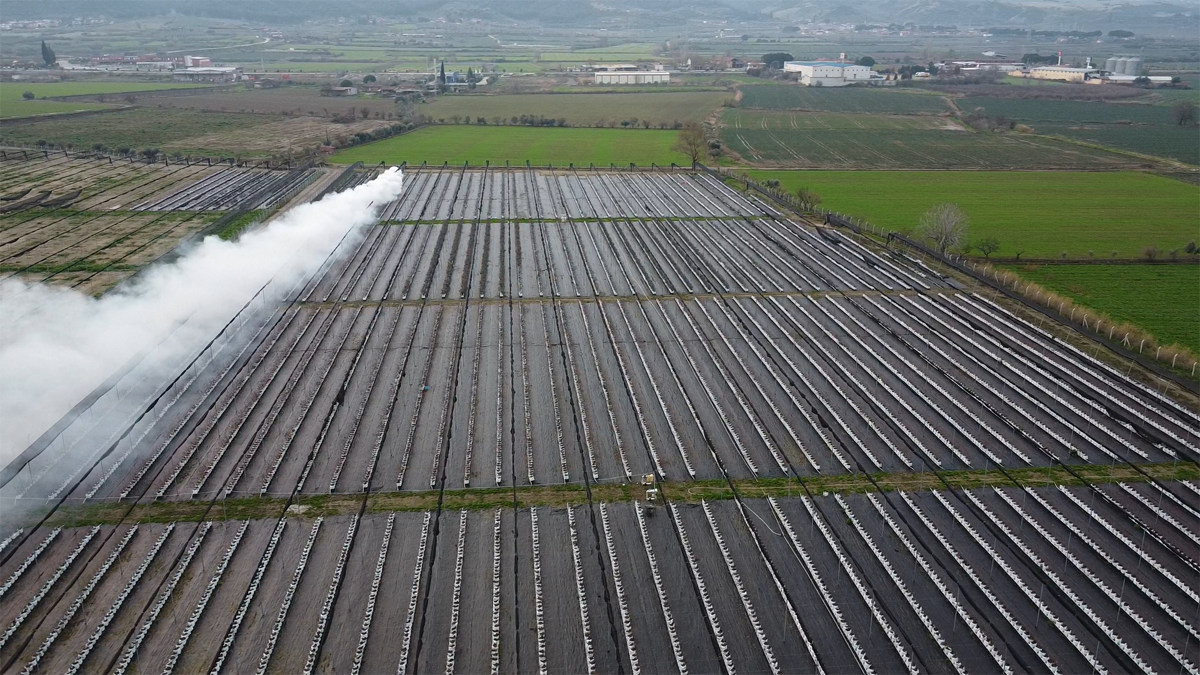 The 5 liters formulation is referenced below and the technical specifications of 3 different types of Thermal fogger machines are given.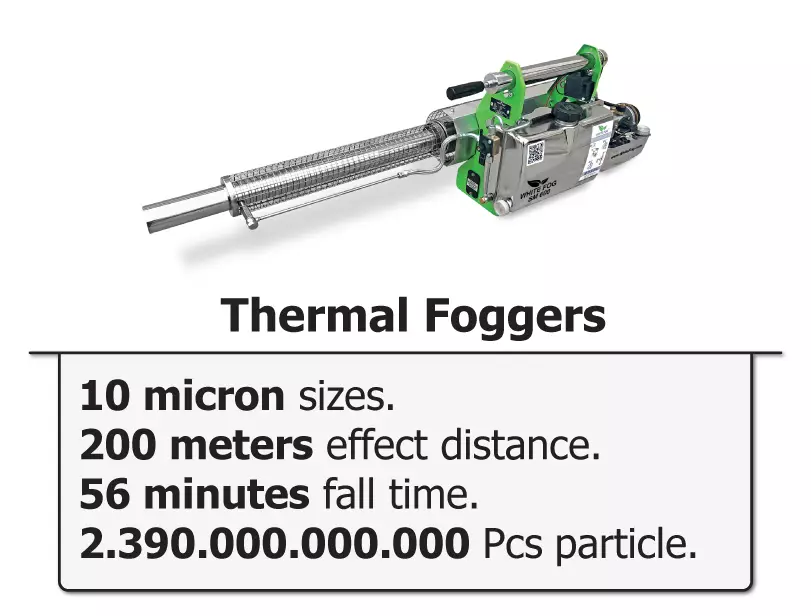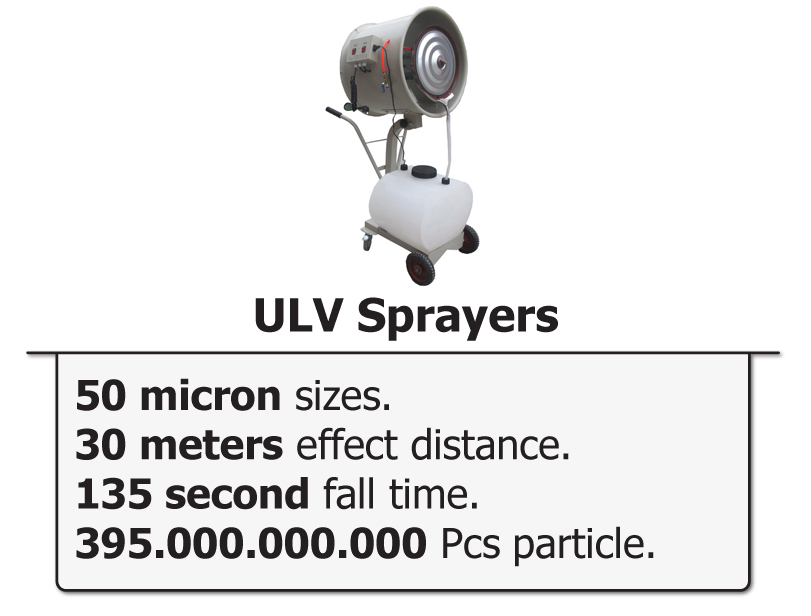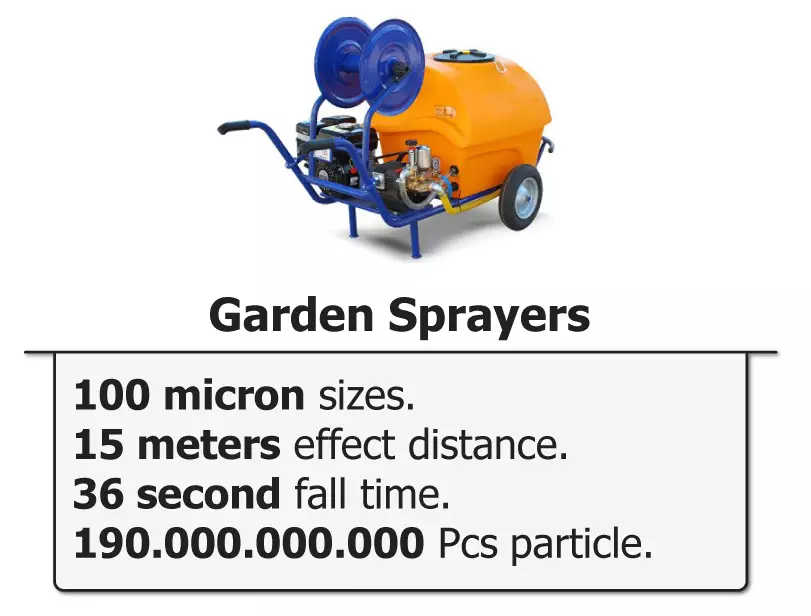 3 Hectares field: SM600
10 Hectares field: SM700
40 Hecates field: ULTRA FOGGER